Celebrating 130 years of the IPU
On 30 June 2019, the IPU will be celebrating its 130th anniversary, on International Day of Parliamentarism. We believe our anniversary is an opportunity to tell the story of the IPU – linking its past with what it does today – to show that we have never been more relevant and that strong and effective parliaments are part of the solution to the problems the world faces today.
If you are in Geneva, visit our exhibition 1889-2019: Celebrating 130 years of the IPU in the Palais des Nations (UN Geneva) in the Salle de Pas Perdus from 24 June to 12 July 2019. If you are in New York, visit our exhibition at the United Nations Headquarters, Visitors' Lobby until 20 July 2019.
On the day itself – Sunday 30 June 2019 – the Presidents of the most recent and future IPU Assemblies will meet in a "Quintet" of current IPU leadership. Ms. Valentina Matvienko, Chairperson of the Council of the Federation, Federal Assembly of the Russian Federation, President of the 137th IPU Assembly (St. Petersburg, October 2017); Ms. Gabriela Cuevas Barron, IPU President, and President of the 138th and 139th Assemblies (Geneva, March and October 2018), Mr. Ahmad Bin Abdulla Bin Zaid Al Mahmoud, Speaker of the Shura Council of Qatar, President of the 140th IPU Assembly (Doha, April 2019); Ms. Maja Gojković, Speaker of the National Assembly of the Republic of Serbia, President of the 141st IPU Assembly (Belgrade, October 2019), will join Mr. Martin Chungong at the IPU's Geneva Headquarters, the House of Parliaments.
Discover how the IPU's 179 Members around the world are celebrating the anniversary. 
Help us celebrate 130 years of the IPU! If you are an MP or work in a parliament, here are a few things you can do.
Send us the list of MPs in your parliament with their emails and social media handles
Adapt our press releases and send them to your national media contacts
Ask for our social media tool kits and help us amplify through Facebook, Twitter, Instagram…
Suggest the names of interesting or outstanding MPs who can become IPU champions
Organize a special event in your parliament on 30 June or another milestone day in 2019-2020 (see the timeline below)
Send us videos or pictures of your parliament
Adapt our white label 130th anniversary exhibition and show it in your Parliament (contact us for more information)
When does the anniversary take place?
The anniversary starts in June 2019 and lasts a full year.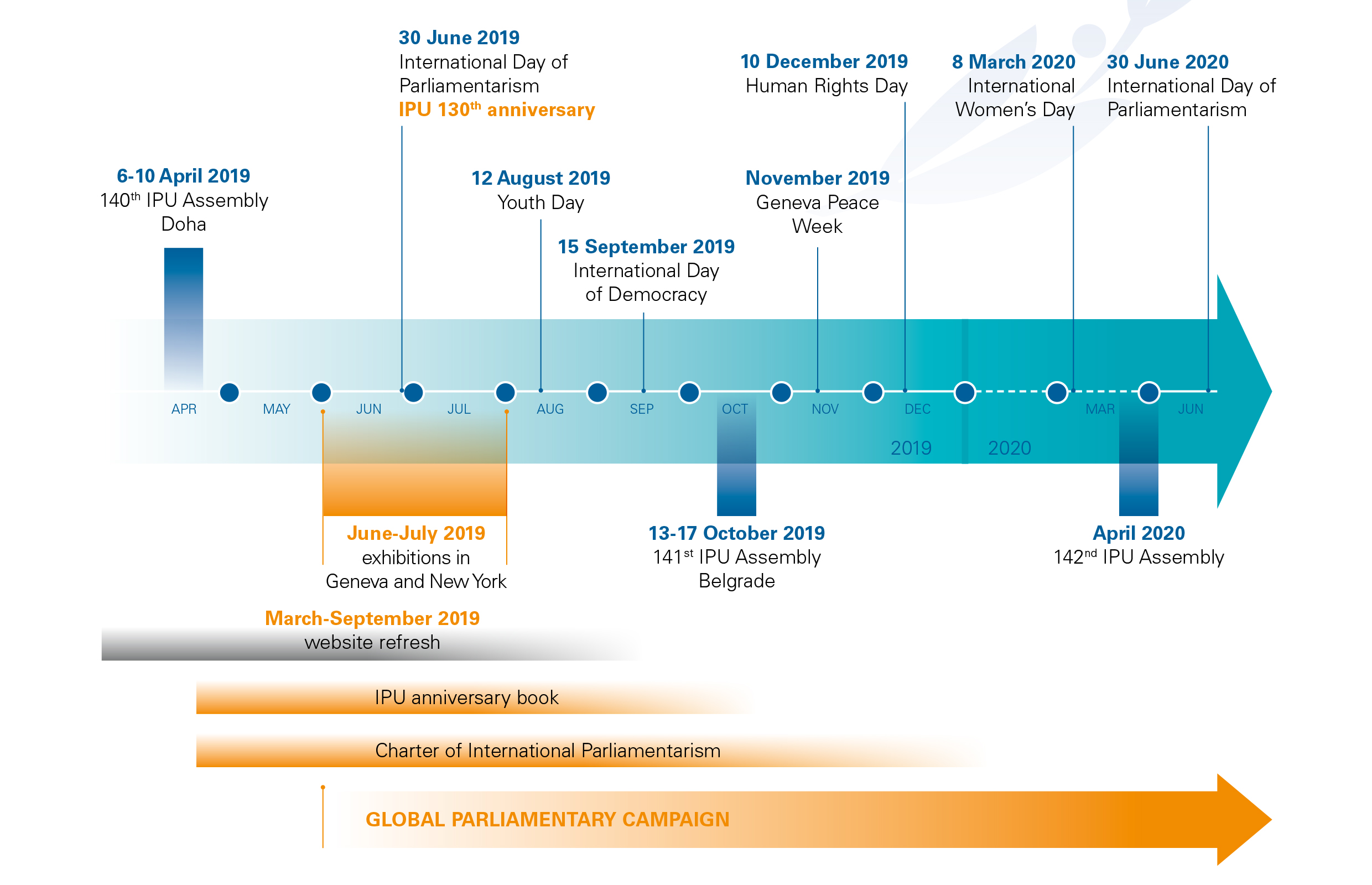 Contact us on press@ipu.org if you would like to take part.