Committee on the Human Rights of Parliamentarians
Every year, many MPs around the world face abuse, mistreatment or even death. Our Committee on the Human Rights of MPs seeks to protect and defend them. The only international mechanism with such a remit, it has a solid track record of providing concrete help to those who suffer abuse.
MPs are subject to a range of human rights violations, ranging from kidnapping or murder to arbitrary detention or exclusion from public life. The map (see below) shows the most recent statistics, including the most common violations, their geographic occurrence and the political affiliation and gender of the victims.
The Committee meets three times a year to examine ongoing cases and new complaints. In working to find solutions and seek redress for individual or groups of MPs, the Committee holds hearings, undertakes missions and observes trials.
Although the Committee's deliberations are confidential, its case decisions—which contain calls for action, expressions of concerns and requests for information—are normally public.  During IPU Assemblies, it is the IPU Membership as a whole, through the Governing Council, which approves and echoes the Committee's views, hence underscoring the importance of parliamentary solidarity in obtaining protection and redress. The Committee and the IPU Membership do not give up and will continue to speak out on cases until there is a satisfactory solution. The cases, including recent action taken by the Committee, can be found on this page and mission reports of the Committee can be found here. 
The Committee has 10 members from all regions who serve in a personal rather than national capacity. They are selected on the strength of their competency and commitment to human rights.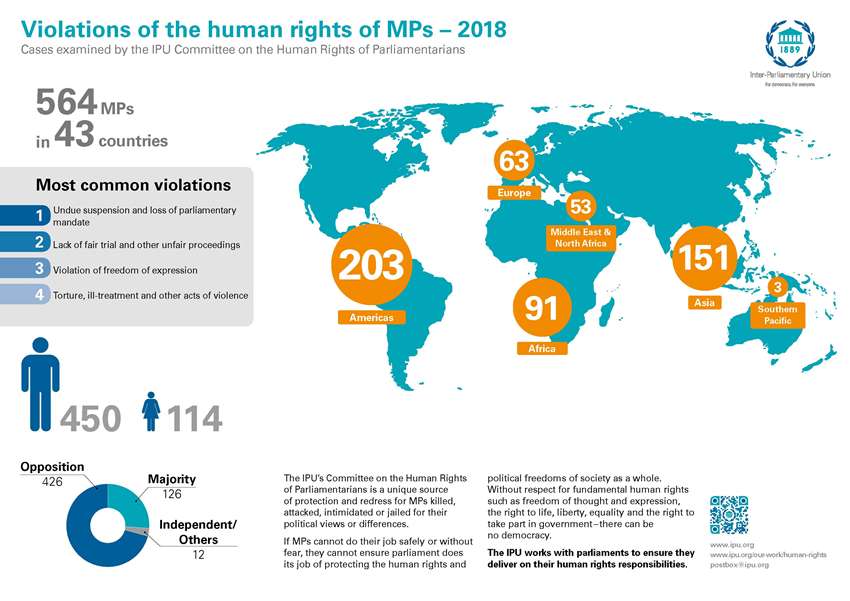 More information can be found in The Committee in a Nutshell.