International Day of Democracy 2017 — In defence of democracy
International Day of Democracy 2017 — In defence of democracy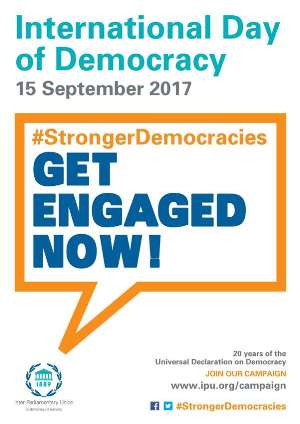 The International Day of Democracy 2017 marks the 20
th
 anniversary of IPU's
Universal Declaration on Democracy
and the 10
th
 anniversary of the
International Day of Democracy
. These two critical milestones offer an occasion to reaffirm our shared commitment to protect and promote democracy.  
We live in a crucial moment where the core values of democracy are being called into question. Citizens are frustrated with the seeming inability of democratic governance to address today's most pressing challenges, such as rising inequality, lack of respect for human rights and climate change.
The IPU has launched an international petition in defence of democracy – Get engaged now! The aim is to mobilize the global community to reinforce democratic governance to address today's urgent challenges.
Join our campaign to ensure stronger democracies and effective rule by the people, for the benefit of each and every one of us. Now, more than ever, it is important to stand up for democracy and ensure that political leaders are doing their utmost to place democratic values at the heart of government and society.
Sign the petition for stronger democracies and make your voice heard!
Please follow us on Twitter and Facebook to stay informed about the International Day.
See also IPU and parliamentary events held during the International Day of Democracy. Posters and videos for the Day can be downloaded here.